It's been a long time since I did not posted about my favorite memes. Life is sometimes so busy. From now on, I will be joining these beautiful memes again. Here is my first entry for this year.
Below is a Lily flower taken from our garden last summer 2010.
Lilium is a genus of herbaceous flowering plants growing from bulbs. Most species are native to the temperate northern hemisphere. They comprise a genus of about 110 species in the lily family (Liliaceae).
this is where we always go walking especially during summer season.
Macro Monday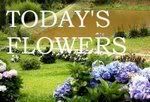 Click the logo to join and see participants of these wonderful memes! Thanks to respective Authors for hosting these beautiful memes! Have a great week to all!